Disposable PE Sleeve Cover
Published on 2023/1/28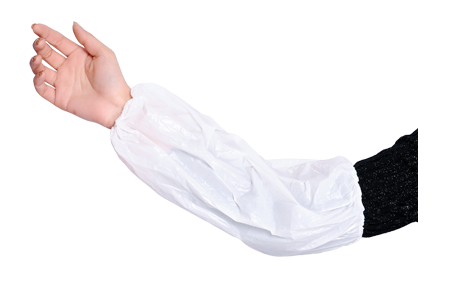 Share to:
Disposable PE Sleeve Cover
The disposable PE sleeve cover is great for use in the health care & food service industries. Disposable pe sleeves are an important part of any disposable wear. They help you maintain hygiene by keeping your arms clean and dry & offer waterproof protection over your arms.

Disposable PE Sleeve Cover is made of polyethylene material. Arm sleeves lightweight, transparent, uniform thickness, convenient and comfortable to wear. Fit right and left hands at the same time. Elastic design on the cuff, and the tightness of the bundles is not easy to loose. Disposable PE Sleeves made with latex free elastic at the wrist and elbow. Effectively prevents the poly arm sleeves from getting fluids or light chemicals. Protection against water, oil, acid and alkali, organic solvents, and light chemicals. Suit for food processing industries, food service, meat packing, poultry. Widely used in food factories.



Color: White/Blue

Material: Polyethylene

Size: 20cmx40cm, 20cmx42cm, 22cmx40cm, 22cmx45cm, 20cmx60cm or as customers' request

Weight: 2.5gsm-4.0gsm

Style: Smooth / Embossed Surface; Handmade/Machine made

Packing:

10,00 Per Case (10 Polybags of 100 ) 10/100

10,00 Per Case(10 pcs/roll, 10 rolls/bag 10 bags/carton)10/10/10

20,00 Per Case (20 Polybags of 100 ) 10/100