Disposable PE Plastic Gloves
Published on 2023/1/28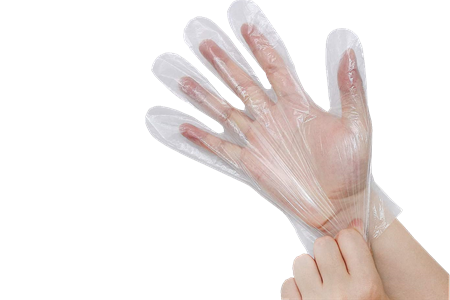 Share to:
Disposable PE Plastic Gloves
Looking for a reliable and affordable disposable PE gloves manufacturer in China? Look no further than our company! We offer a wide range of high-quality and affordable PE gloves, perfect for any industrial or commercial application.

Disposable polyethylene gloves for use in food service. PE gloves are an economical choice for frequent-change environments, offering protection for many multipurpose and food handling applications. Manufactured using the highest purity virgin raw materials to ensure strength and barrier integrity, our industrial-grade disposable food service poly gloves are made of polyethylene (PE) and are designed to meet or exceed all industry standards for safety and quality.




Product Description:

Latex free

Powder free

Polyethylene

Single Use

BPA free food gloves.

Protects hands from messy or skin-irritating tasks

Protects foods from germs, perspiration skin oils




Disposable poly gloves: Made of food grade polyethylene, 100% safe for daily use, odorless, eco-friendly, and thicker than normal disposable gloves, toughness is stronger. Suitable perfectly for food handling or cooking, such as making hamburger and sushi, seasoning meat and fish, or cutting garlic, onions and other smelly foods, and won't linger any smell on hands.




Multi-purpose Plastic gloves: Disposable PE gloves are ideal for food service workers and other individuals who need to handle food on a regular basis. The disposable pe glove is good more than just for food prep, also perfect for cleaning, party dining, hairdressing, car washing and so on.




One size : These large size disposable polyethylene gloves fits adults and children, easy to put on easy to put off, and sanded surface is better grip.